Post by Rick on Oct 18, 2015 22:27:50 GMT -5
Greetings. Taken a while to get some mojo working again after the long Typhoon build. Going to tackle another large bird. This time, I'm going to jump across the channel and take on ProModellers Heinkel 111 in 1/32 scale. This kit is the same as Revell's release, just with different markings. In a moment of weakness, I picked this one up last spring from a vendor table at one of the model shows. Of course, Airfix immediately released their 1/72 version would have made it much easier to safely display than this beast. This one is going to take up a bit of space. Wingspan is almost 29 inches, a couple more than Airfix's big Mossie. Can't say for sure how long this one will take as I've started a new job and also got several other kits under construction too.
The box itself is huge and it is full.
[/URL]
Of course, there are several extra goodies that are to be incorporated into the kit. Replacement exhaust, PE pilot harness and instrument panel, resin machine guns should improve the plastic blobs in the kit, and then paint masks for the incredibly massive amount of glass present on these flugzeugs:
[/URL]
A couple mock ups of the main parts:
[/URL]
[/URL]
To give a bit of scale, a 1/72 ME109G landed on the port wing: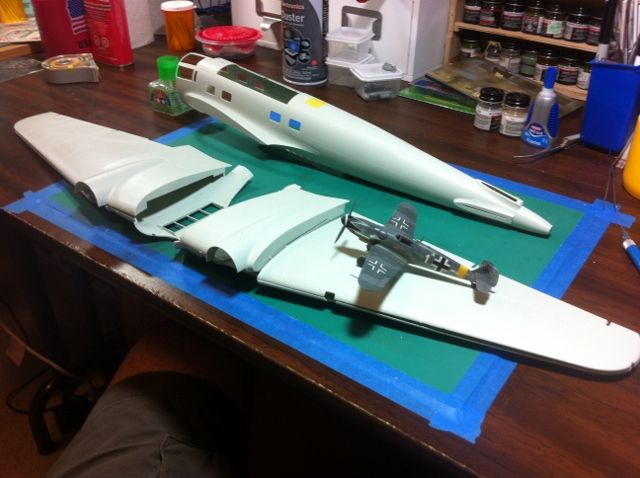 [/URL]
Two of the challenges straight out of the box is the instruction sheet and the sprue number. Revell, in their infinite lack of user foresight neglected to call out the letter identifiers of the sprues therefore only use a part number in the instructions. To further complicate the process, parts are molded onto sprues in no particular sub assembly order or any numeric order. Basically, one needs to explore all of the sprues to gather the needed parts to build the various subs. The cockpit alone had parts strung out across about 6 or 8 different sprues. Oh, and did I mention that a couple of parts are mis-numbered on the instruction sheet?
[/URL]
That being said, after tracking down all the parts for well over an hour, the overall parts detail is actually pretty decent. There is some extra flash to trim, but at least, Revell did a good job of aligning their molds (unlike the Airfix Typhoon) so seams are very minimal. Here is the flight deck and part of the fuselage interior mostly together and almost ready to paint. I'm planning to take the interior assembly as far as possible before firing up the airbrush.
[/URL]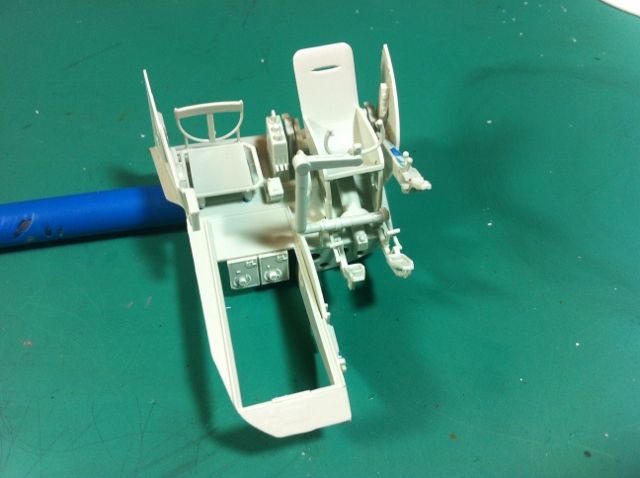 [/URL]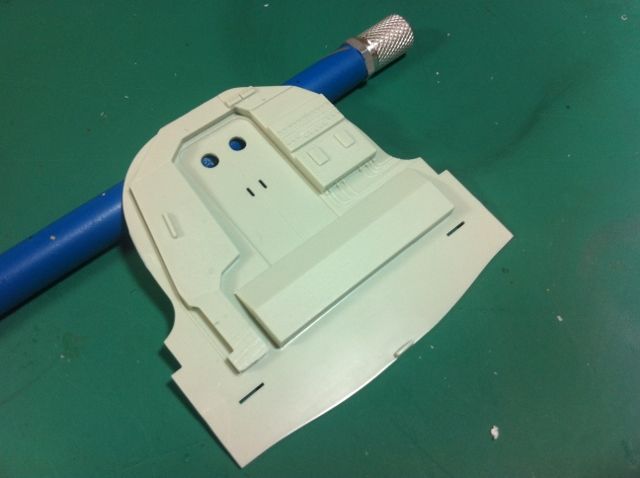 [/URL]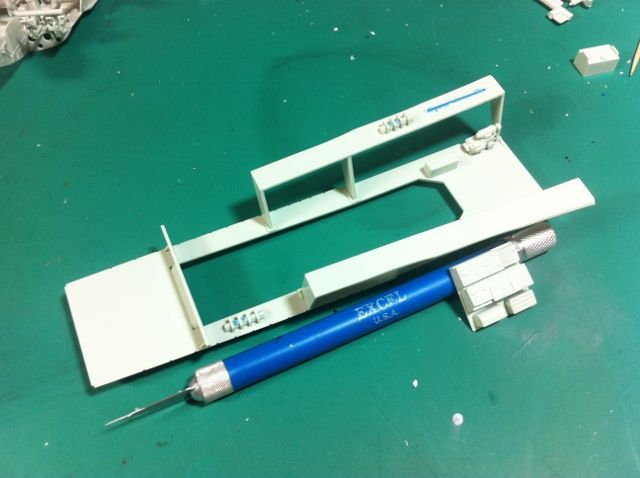 [/URL]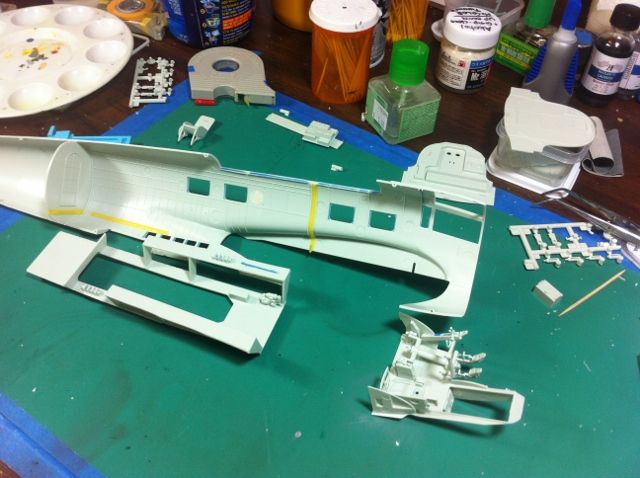 [/URL]
The 111 had that weird bombay that hung the load by it's nose and then dropped them tail first. The kit provides a full load. This pic represents the starboard half of the bomb load. The port side will have an identical sub assembly:
[/URL]
That's it for tonight. I'll post again once the interior is built up and some paint flies. Thanks for looking in. As always all input is welcome, especially if someone has built this kit before and has some insights and tips to watch out for.