Post by TRM on Aug 18, 2012 14:16:31 GMT -5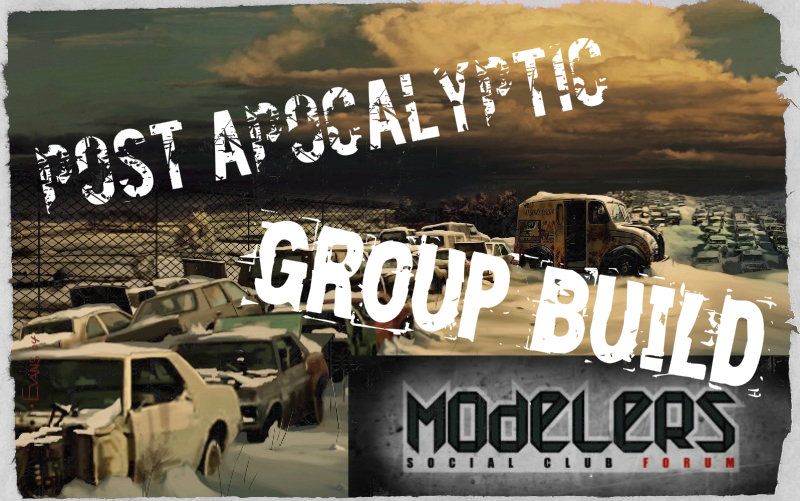 Welcome to MSC's Post Apocalyptic Group Build.

The Group Build is officially open!!

Any member can enter the Post Apocalyptic Group Build (PAGB) at any time. There will be no official end date to the group build. This means you can start a build and work on it when you like and finish when you want. Below I have listed a few guidelines, if you will, to the PAGB:

1 - Start Date: NOW!!!

2 - End Date: Open Ended (No official finish)

3 - What you can build: You can build anything your heart desires as long as it is Future Based, Post Apocalyptic in nature. Cars, Trucks, Planes, Boats, etc. are all acceptable as long as it Post Apocalyptic and it does not break any International, Federal, State or Local Laws in your country!!

4 - There are no prizes and/or compensation for entry and/or completion of a model in the PAGB except for being the proud owner of a completed PAGB Model and any and all bragging rights that go along with said model.

5 - This is a "Group Build"!! This means group participation. The idea is to have fun, enjoy the build and enjoy being apart of this little part of the MSC community. I would urge you to build, invent, create, destroy, wreck and just have FUN!!!

6 - Feel free to post any pictures of you progress in the PAGB Discussion Thread, its what its there for!!! Talk about what you have done and what others are doing here. If you wish to, and I encourage this, start your own individual Build Threads PAGB Section. This way you can show the bulk of you build(s) progress and discuss them and still post update pictures in the main discussion thread.

7 - Banners!!! If you wish to use one of our banners for this group build Just copy the code under the banner you would like to use and then paste it into you signature inside the IMG brackets, that's it!
Code:
i1048.photobucket.com/albums/s376/MRT5150/Site%20Stuff/SignatureBannerGroupBuild.jpg
Code:
i1048.photobucket.com/albums/s376/MRT5150/Site%20Stuff/Banner4.jpg
If you want your signature to link to your build, simply insert one of the links above in between the middle brackets of
, replace the word Link with your link to your thread link and paste it into your signature. Any questions or problems just ask one of the staff and they will help.
OK then, go build something!!! If you have any questions feel free to contact any of the Staff here on MSC or simply post a question in the PAGB Q&A Section.

HAVE FUN!!!