Post by venom1 on Jan 22, 2014 7:09:33 GMT -5
Howdy folks, Captain Tardy here!
Thought it was time I gave you an update on something I started a couple of weeks back. I know, I know. As Bugs Bunny would say, "Fer shame, Doc!!"!

(rofl)Ennyhoo, better late than never, hey? (Well, that's my story, 'n I'm stickin' to it!!)
So, time for another little helo to be added to the collection! This is my first foray into the world of HobbyBoss 1/72 helo's and I gotta say, it won't be the last!! This is such a great little kit! It has a few downsides, but if you are willing to overlook them, it makes for a great build.
First the "cons" of the kit: The main rotor and tail rotor are both over scale, making it look a little odd to the trained eye. The main rotor head is too big, and the blades are a bit too long. The tail rotor also has blades that are too long and the chord is too short. It is also missing the rudder pedals in the cockpit, and from what I understand, the instrument shroud is the wrong shape.
The "pros": The detail is lovely, with lots of nice engraved panel lines and rivet detail which will come up very nicely under some paint and washes. The fit is bloody marvelous! There is virtually no filler used anywhere on this kit. The entire nose section is cast in clear plastic which means no fiddling around with dodgy windscreens that don't fit. Huzzah!! Just mask up and away you go with the paint! Glasswork is all very crisp and clear. Rear cabin door can be posed open if you so desire, and if not, then the fit here is also exceptional. No square peg in a round hole here folks! The shape of the nose and intake section above the cockpit is apparently pretty much spot on, and is therefore the first Mi-2 in 1/72 to get it right.
So, on with the build!
This is the box art for the kit in question....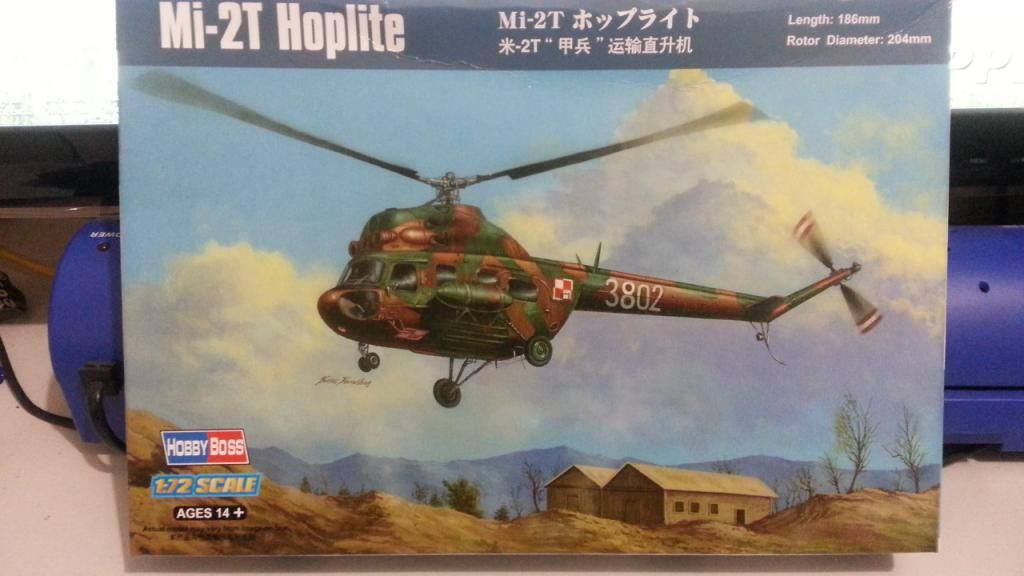 There are a few different Mi-2 versions available on the market now, including a gunship, so you have a bit of a choice.

Next up, we have painted the fuselage halves and the cockpit interior on the sprue as such. I have also assembled the instrument shroud. The instrument panel itself can be seen off to the right. This has fine raised detail which matches up nicely with the instrument decal. The interior colour on Russian aircraft seems to vary from airframe to airframe. In this case I have used Model Master Interior Blue/Green (2135). If you are modelling a specific airframe, check your references!!
Here I have added the decals for the main instrument panel and overhead panel. Noice!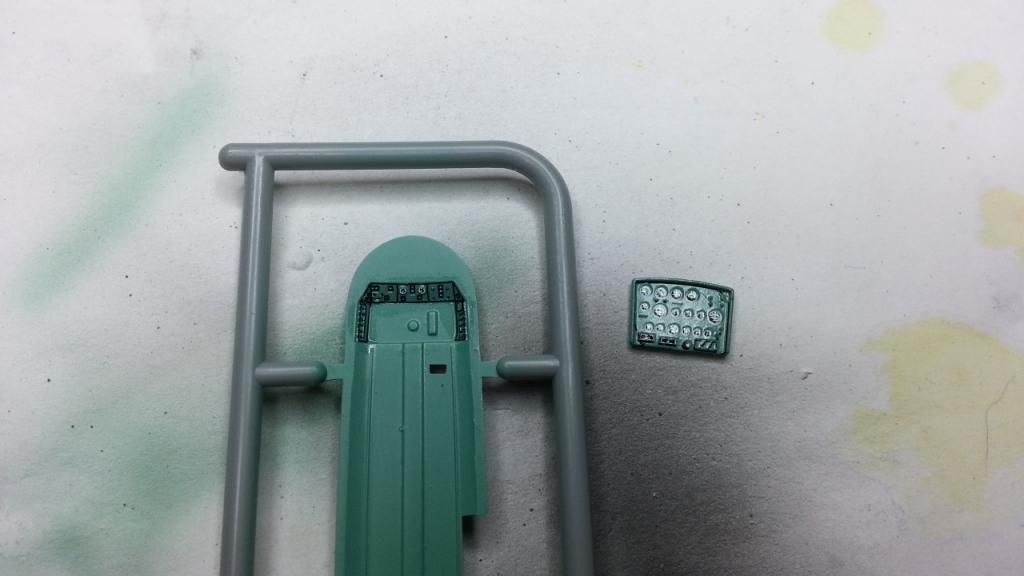 The cockpit dry fitted together...
As this is going to be a heavily weathered/abandoned bird, it was time to start weathering the cockpit. Paint scratches/chipping....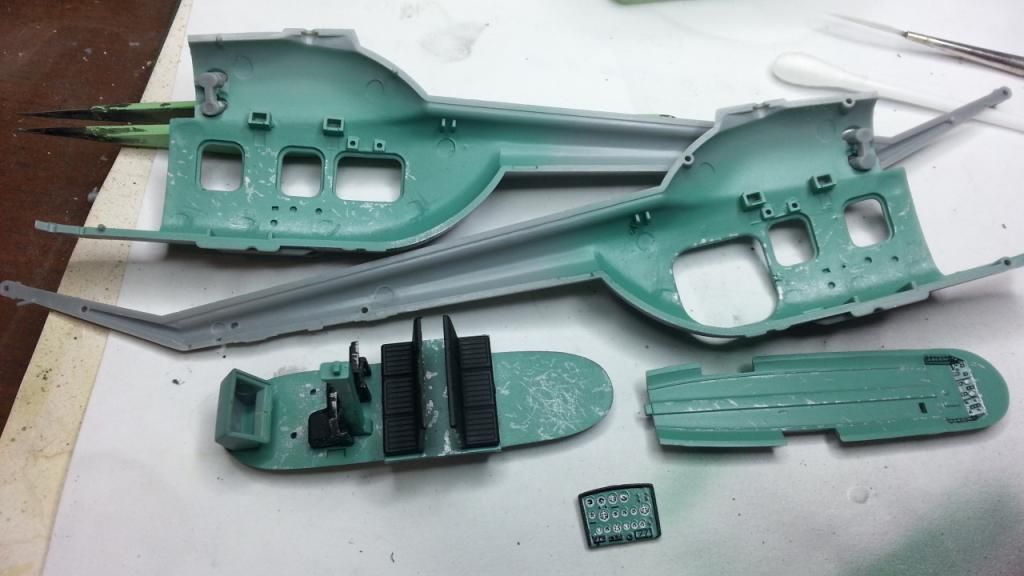 Next up, seatbelts were added from the trusty ol' Tamiya tape, followed by some washes to add a bit of dirt and grime.....
Followed by some oil dot weathering.
The end result. Probably can't really notice it on the screen. It is pretty subtle in real life.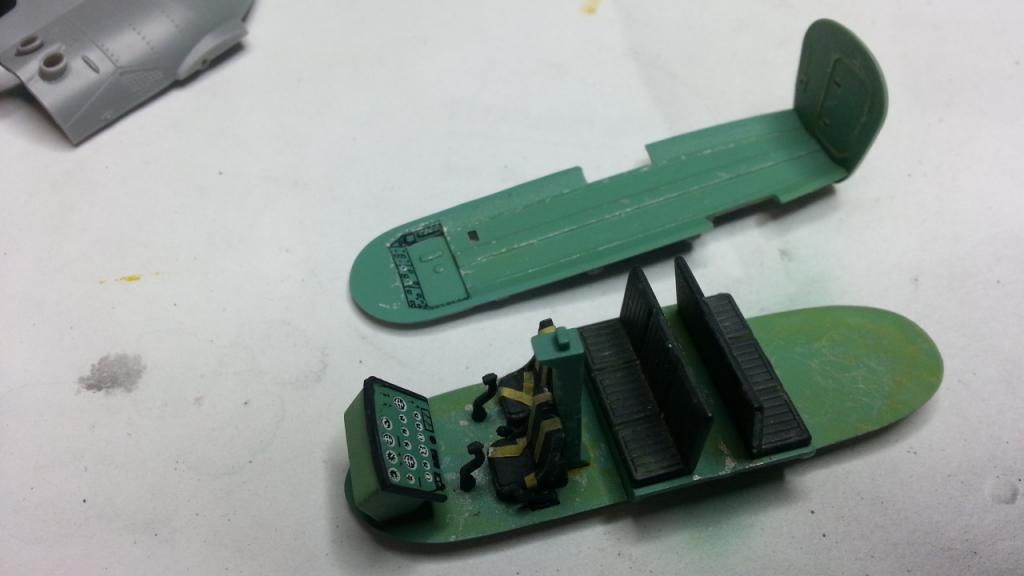 Cockpit installation before closing up....
Time to close up!!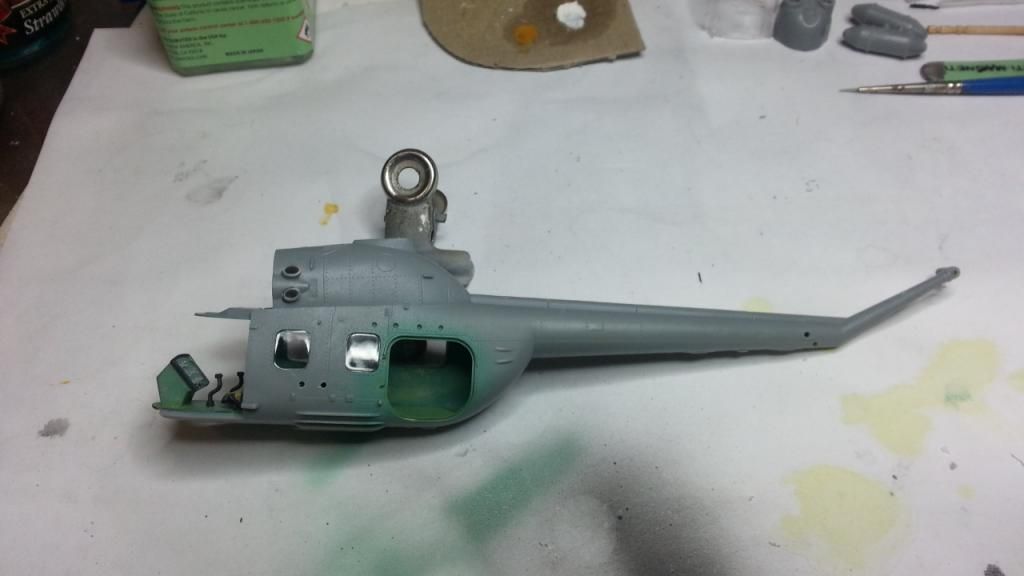 Judgement time. how well does the clear nose fit? Soo-poib!!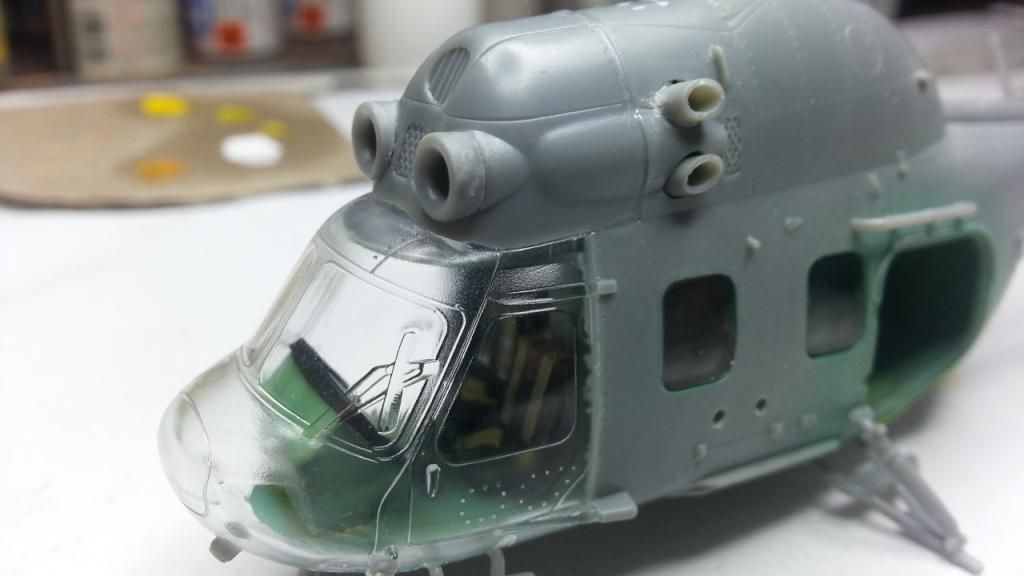 In fact everything fits like a glove! Gotta be happy......
Rest of the sticky-outy stuff was added on....
Test fit for the door. Look ma, no glue!!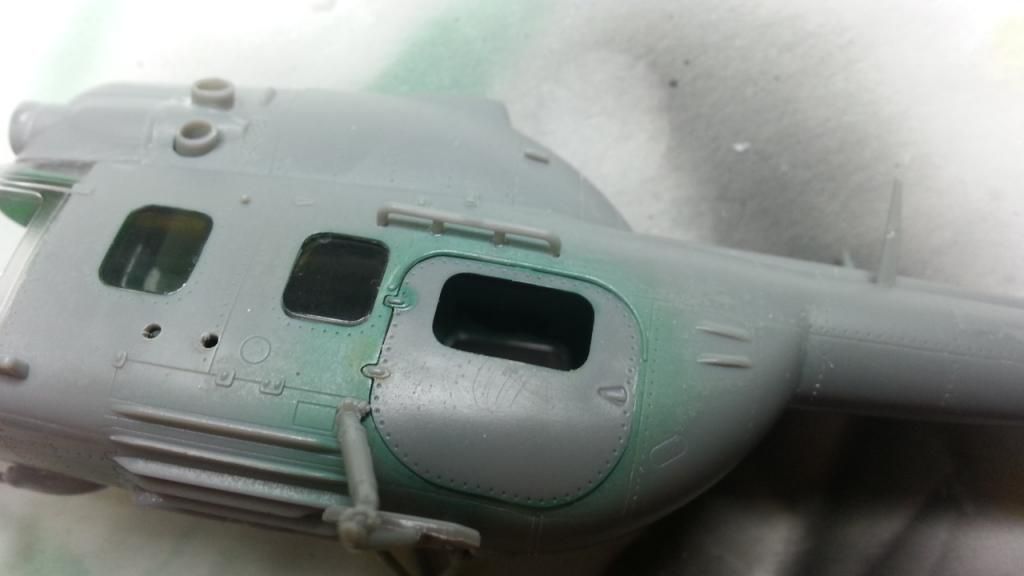 Finally, it was time to mask up! I resorted here once again to my trusty Bare Metal Foil. I reckon this stuff is the bees knees when it comes to masking canopies, and a lot less hassle than fiddly bits of tape. So here she is with all the see thru bits shinied up...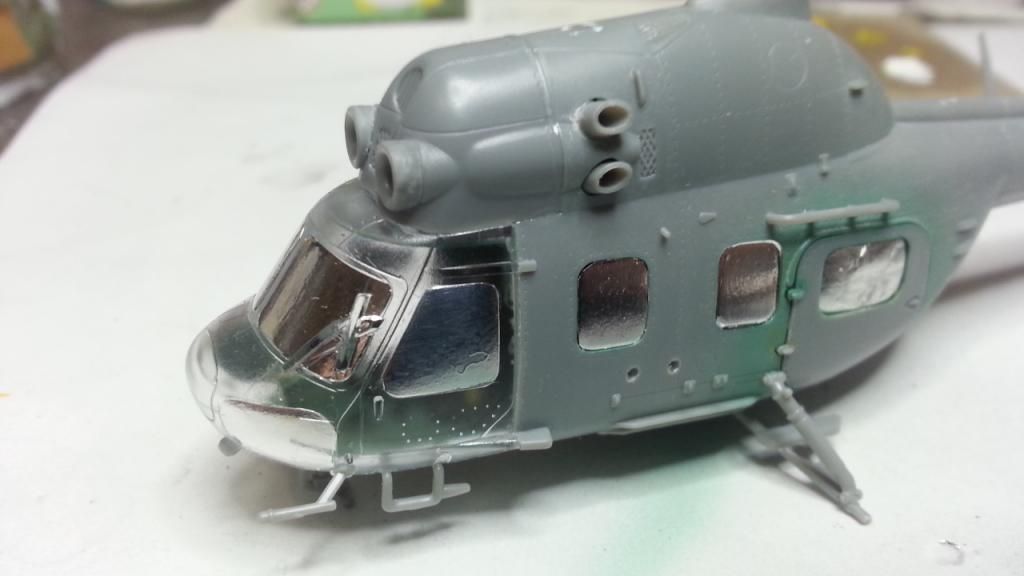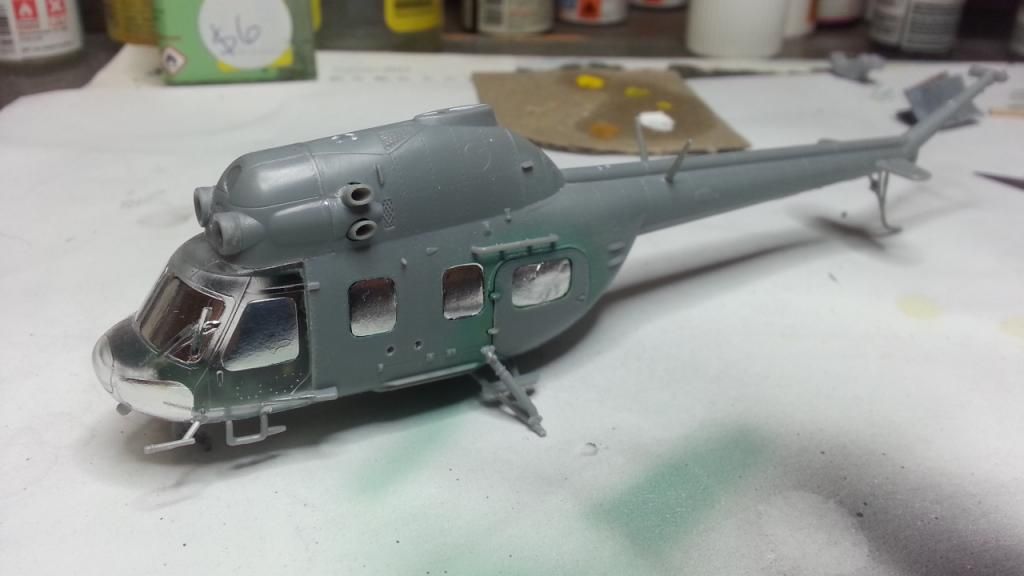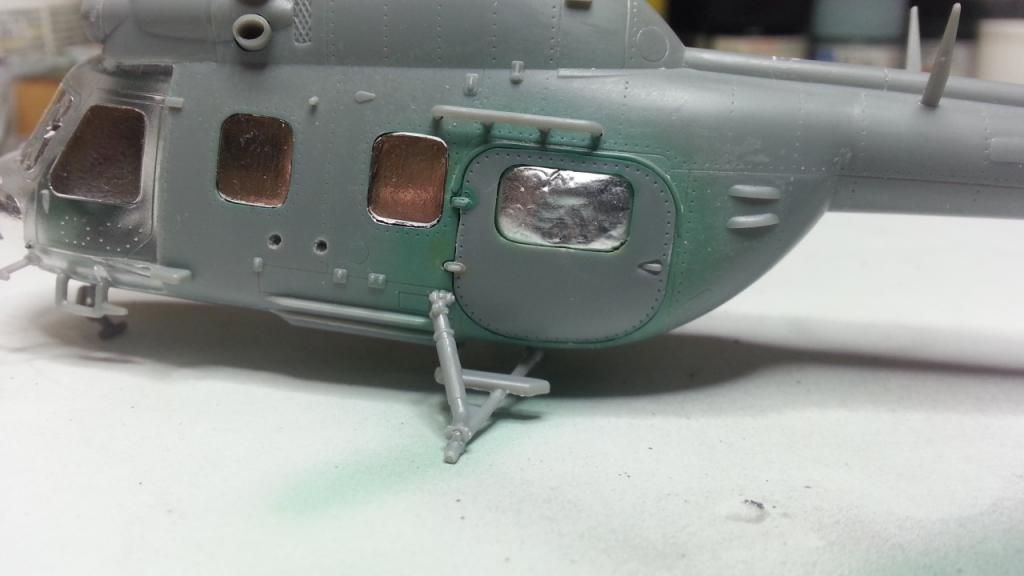 And so here is how she stands as of this evening, all masked up and ready for paint!
As I hinted at earlier, this will be an abandoned bird, so will be doing a lot of faded/weathered paintwork, as well as paint chipping. Will spray down the interior colour over the clear stuff first, followed by a primer coat of Tamiya Fine Primer, then some Tamiya AS-12 straight from the can. This will give me the foundation to begin the weathering process. Watch this space!
Oh, by the way, does anyone know an effective way of weathering/chipping decals? Will look a bit naff if it is faded from here to oblivion with shiny new red stars on it!!

Cheers,
Sam