Post by TRM on Jan 10, 2015 21:10:01 GMT -5
Hey guys!!
"Figured" I would pop up yet another thread! This time it's a sort of holding pen, of sorts, for a few things I am working at on and off. Yeah, you guessed it.....Figures!!

I may finish some of these of quick as I go....other not so much. In either case I get a chance to play around with some stuff for a while and see what comes out of it!! So not to waste too much here I will get right to it!
First out of the box is one of Kabuki Models figures; Snow White. I actually had the pleasure of reviewing this one recently in the Review Connect. Here is the link if you choose to check it out! -
Review
The figure itself is great! Very little cleanup and assembly was quick
One of the best parts of any job, well to me anyway, it the primer stage!! There is a simplistic, clean look to a freshly primed model...not to mention it show anything that is unseen by the naked eye.
The bunny and base received a nice coat of black to get the ball rolling!
I thought with the figure I would try something a little different! The Game Air set from Vallejo has some interesting primers included with it, one of which is Pure Red.
The next step was a no-brainer here...a little brown for the base...heck, there is a tree, right?

I added a couple different browns here to get some contrast. The line of Vallejo Game Air is not unlike most sets of paint with the exception the names are "colorfully" geared to the gaming world as well as the vibrant coloring.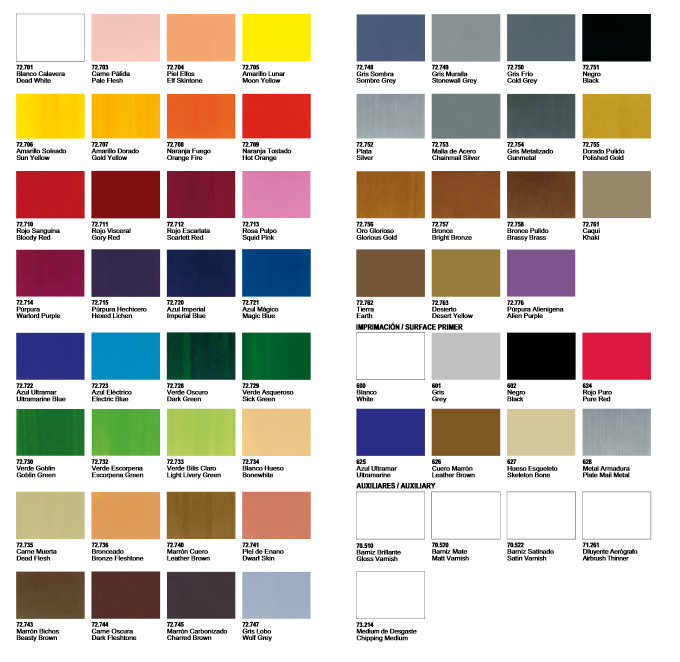 So grabbing a couple colors off of the list I attacked the grass on the base...starting with the darkest color first then adding various highlights.
In the middle of all this I grabbed the Khaki Color and lighten some rings on the stump.
The coloring is very subtle. I will probably pick much more out as I go, but this was a good point to jump around. I need to come back and filling the flowers anyway!!

The rabbit seems to be the easiest one out of the lot. I touched the little guy with a hint of brown followed right after with some Bonewhite!
See, that was easy!!

Time to have a look at the girl. I have tried several methods for applying skin tones and personally I like to start the first few coats with an airbrush. Just how I roll!
Next up was a first light coat of Dwarf Skin. This was my though...the red base primer will accent the creases and edges to non skin areas.
Elf Skintone was next up.
To shorten this story up a bit, I hit some Pale Flesh mixed with a little Dead White and Ms. White was off to some detail painting. Some Imperial Blue for the bodice, Gold Yellow, Moon Yellow and Dead White for the skirt and the red trim a little back and forth with Gory Red and Blood Red. This is where she stands now...
Try not to laugh too hard at my "mad skills" ( lol ) in the figure painting genre. All about having a little fun, right? I still have a bunch of highlights and touching up to do. I will be back later to pop a couple other figs I am working on as well!! Hope you had a little fun hanging out for a bit!!